PACE.COLLABORATION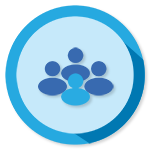 If you need experienced integration practitioners to work alongside your team to help during that spike in demand then see how a collaboration with PACE could deliver on your business objectives.
INTEGRATION PROGRAMME MANAGEMENT
We've all been there, but no matter how detailed the initial planning, how grand the vision, or how committed everyone is to be the best project ever - we all know projects can go off track. Working in global time zones, across multiple teams, business areas, vendors and partners; it's sometimes difficult to pin point where in all of the parallelism the critical path activities are sitting.
Integration by its very nature of connecting it all together often ends up at the centre. Coupled with the fact it can be under estimated or seen purely as a technical area, it's easy for the Integration area to quickly come become the management teams focus area.
Working alongside your team in delivering that critical programme, PACE can offer a tailored service to:
Identify issues impacting the overall integration delivery
Support replanning and restructuring as required
Establish governance to hold delivery partners accountable
Highlight opportunities for simplification, allowing original objectives to be met whilst minimising any ongoing risks
Stakeholder Management to address programme level risks and issues
If you need experienced integration practitioners to provide fixed term resource augmentation whilst developing or recruiting internal resources this package could offer a solution to the gap. As part of this packaged engagement we're committed to ensuring the knowledge remains in your organisation and the transition to internal resources sets them up for continued success in their role.
PLATFORM ASSESSMENT
Making a vendor or technology selection for the future can be one of the crossroads moments. The decision is likely to have a significant change associated with it not to mention set out a path of investment spanning multiple years.
In big programme delivery, integration can sometimes be overlooked by generalists or dismissed as something purely technical. However, the reality is it often becomes central to everything the programme is trying to realise and not giving it proper thought at the selection stage can have significant consequences during implementation and operations. If you're looking to select a new Cloud or SaaS solution you need to seamlessly integrate into your existing enterprise, or you're making an on-premise investment that needs to propagate data both internally and externally then we have accelerators that can assess prospective vendors capabilities in the context of your existing investments and the business processes that will interact with your new platform.
If you're looking to make a new integration platform selection, then at PACE we also have experience in the review and recommendation of both on-premise middleware and integration platform as a service (iPaaS) technologies. Whether your company is new to integration or has a mature landscape, leverage the benefit of experience to help structure and run your selection process; from getting buy-in from the business and capturing requirements, issuing RFI - RFPs and tangibly assessing, to presenting the recommendation to stakeholders and planning the next steps.
This collaboration package can help you ensure the right assessment framework is applied, giving transparency to all stakeholders and ensure you make the right decision for your organisations growth and digital strategies into the future.
LINE OF BUSINESS CONSULTING
Over the years we've been lucky to have experience across a breadth of business areas and technology platforms, in a wide range of geographies. Our Industry Solution Consulting package allows you to tap into that to look at end-to-end Integration Process Optimisation opportunities and strategies through seamless integration across your different business platforms.
We've had experience integrating with 100s of software vendors including the big players like SAP, Oracle, Workday, Salesforce - to the specific smaller vendors.
From a business process perspective we have worked on projects across a spectrum of business areas including customer engagement, manufacturing, warehouse, logistics, order to cash, finance, R&D, marketing, master data management and HR.
Examples of what we mean by industry solution consulting are as follows:
Simplify B2B on-boarding – refresh your B2B integration strategy to realise opportunities to streamline customer on-boarding and enable new business opportunities.
Enabling a Business to Consumer integration model – through API technologies establish a new model for leveraging the API economy from e-commerce through to enabling your partners or vendors to consume your API for increased business efficiency & cost savings
Defining new Manufacturing Integration Solution to support IOT automation – gain full transparency over your manufacturing process by coupling transaction based integration such as production orders with sensor based IOT driven data to optimise processes and maximise efficiency.
Roadmap for securing HR integrations – capture the flow of your employee and contingent worker data across the enterprise and the globe, assess against your data security & privacy policies and put in place a roadmap for securing your data for the future. Given the potential risks to reputation of a breach as well as financial penalties are you sure you're secure.
Standardising Master Data Management Integration across the enterprise – whether it's integrating with a back office ERP, a new SaaS solution, or a mobile app wouldn't it be good to have one way of integrating master data. Assess your current landscape, agree strategic integration patterns and put in place a roadmap for realising your strategy. This can lead to reduced cost, reduced on boarding and open new opportunities for innovation.
These are just a sample, and we would love the opportunity to discuss with you about your specific integration solution challenge and offer advice on how to approach it; even if that's not with PACE.
To learn more about services that PACE offer please contact us. We would be happy to propose a package that is tailored to meet your specific needs.